The Ultimate 81 Item Go-Bag Gear Checklist for 2021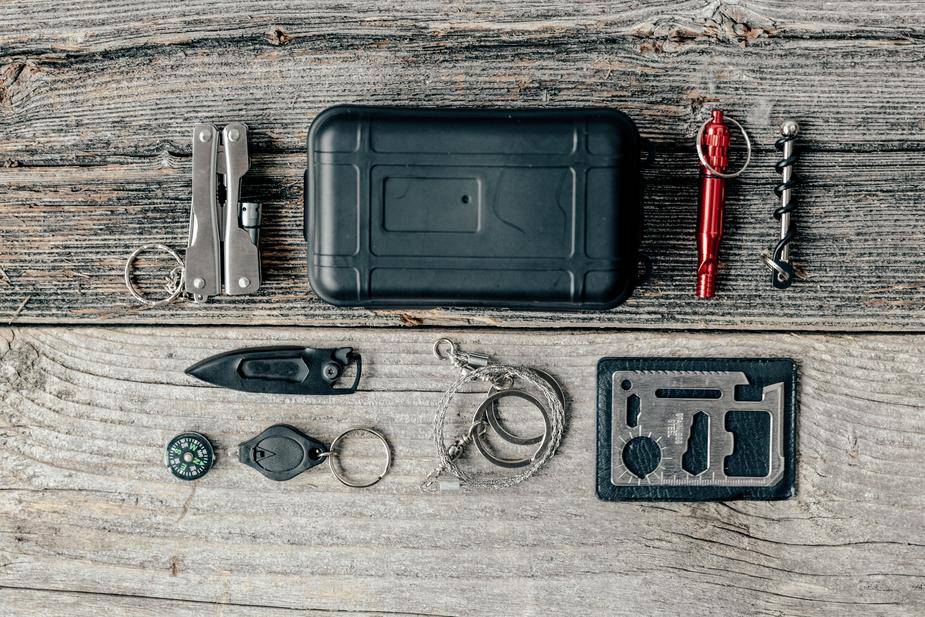 Many people believe that they should be able to survive just from the stuff in their bug-out bags, but we feel different. The purpose of your emergency preparedness bag is to get you and your group from point A to a much safer point B. That's it. 
We're willing to bet that there won't be time to host a picnic or show off your non-stick, anodized mess kit. Leave that for your camping trip. Pack quick food that you can eat while moving and enough water to get you to where you're going. Speaking of where you're going... where will you be going? That is the most important part of bugging out. If you don't know where your safe house is, then no amount of tools or gear can get you there safely.
Plan ahead, be prepared and do some practice runs disguised as camping trips. Below are 81 items to consider when thinking about what to pack in your emergency backpack. Enjoy!
Backpack (40-50L, inconspicuous) 
Waterproof dry bag or three 
Extra house/car keys 
First aid kit (see First Aid Supplies list)

HYDRATION
1. Bottled water 
2. Hydration bladder 
3. Water filter/straw 
4. Water purification tablets 
5. Solar kettle 
6. Coffee filters used as large particulate strainers 
7. Cup or canteen
FOOD
8. MREs (Meals Ready to Eat) enough for at least 72h 
9. Protein bars or snacks of your liking 
10. Tea bags, coffee or powdered drink mixes
VALUABLES 
11. ID, passport, birth certificate, proof of address, deed/lease to home
12. Cash, travelers checks, spare change in a waterproof case
13. Medication list (if not already in your first aid kit) 
POWER 
14. USB chargers 
15. Batteries 
16. Solar cell charger 
17. Power Bank
Subscribe to our newsletter
Promotions, new products and sales. Directly to your inbox.
HYGENE 
18. Compressed Wet wipes and hotel size soap 
19. Toothpaste & toothbrush 
20. Toilet paper 
21. Trash bag or two 
22. Deodorant 
COMMUNICATION 
23. AM/FM/NOAA hand crank radio 
24. Mirror or reflective object 
25. Glow sticks 
26. Survival whistle 
27. HAM radios (when traveling in a group)
NAVIGATION 
28. Paper map of local area in waterproof case
29. Planned escape route 
30. Monocular 
31. Lantern 
32. Headlight with red filter 
33. Compass 
34. Location maps of nearest shelters/bunkers
TOOLS 
35. Multitool or two 
36. Knife of your choice 
37. Can opener (unnecessary if packing MREs) 
38. Carabiners 
39. Duct Tape
FIRE
40. Magnesium ferro rod 
41. Lighters 
42. Waterproof matches
SHELTER
43. Sleeping bag 
44. Survival blanket 
45. Wool blanket 
46. Tarp / Emergency shelter 
47. 550 Paracord
WEARABLES
48. Poncho 
49. Prescription glasses or contact lenses 
50. Spare clothing and underwear 
51. Sunglasses 
52. Work gloves 
53. Bandana or neck gaiter 
54. Comfortable hiking boots 
55. Watch 
56. Hat for heat stroke protection
ENTERTAINMENT 
57. Survival playing cards 
58. Survival guidebook of choice
SELF DEFENSE + HUNTING
59. Machete 
60. Pepper spray 
61. Handgun + ammo (can backfire) 
62. Rifle + ammo (attracts attention) 
63. Sling Shot
WILDERNESS SPECIFIC GEAR ADDITIONS
64. Mosquito head net 
65. Bug spray / repellent 
66. Hatchet / axe 
67. Hunting / skinning knife 
68. SPF sunscreen 
69. Saw 
70. Folding shovel 
71. Fishing kit 
72. Cooking Gear and Spork (unnecessary if packing MREs) 
73. Goggles (think sand storms) 
74. Tinder box / tinder shredder
URBAN BUG OUT BAG SPECIFIC GEAR ADDITIONS 
75. Kevlar reinforced cut and slash-proof clothing 
76. Gas mask 
77. Dust Mask 
78. Hydrant Wrench 
79. Pry bar 
80. Bolt Cutters 
81. Puncture proof shoes / boots
Phew! Now THAT'S a list! Obviously you can't and should not pack everything on this list in your go-bag. That being said you should keep redundancies in mind and we recommend having at least two items that serve the same function and are interchangeable.
While you can't possibly foresee every possible emergency scenario out there - you should at least cover the basic supplies of food and water. We firmly believe that in today's interconnected world humans come to each other's aid no matter the circumstances and soon things will go back to normal. Perhaps a slightly new normal, but not a dystopian, apocalyptic, zombies running around a nuclear wasteland normal nonetheless.
Sources: FEMA (www.ready.org), The Red Cross (www.redcross.org), and The National Safety Council (www.nsc.org) and others. NOTE: Sorted by categories in no particular order of importance.  
DISCLAIMER: The material and information contained in this presentation is for general information purposes only. You should not rely upon the material or information within as a basis for making any business, legal, health or any other decisions. Whilst we endeavor to keep the information up to date and correct, GoBagGear.com makes no representations or warranties of any kind, express or implied about the completeness, accuracy, reliability, suitability or availability with respect to the presentation or the information, products, services or related graphics contained on here for any purpose. Any reliance you place on such material is therefore strictly at your own risk. GoBagGear.com will not be liable for any false, inaccurate, inappropriate or incomplete information presented on this presentation.
---